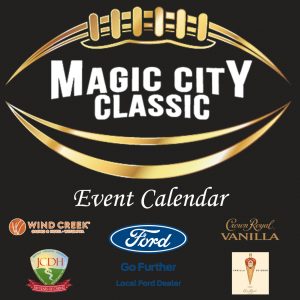 NextGEN powered by Ford
Wednesday October 25th
The NextGEN competition is with Birmingham City School students and teachers who answer the question "What would make Birmingham brighter". Their ideas for products, goods and services are pitched and finalists are chosen to work with mentors to help mold the ideas for final pitch in front of live audience. The three students and three teachers chosen as finalists all share in $15,000 in scholarships and career development prizes.
NextGen Finals and awards presentation are held at the BJCC Forum building and is free to the public.  Event starts at 6pm.
Big Easy in Birmingham powered by Ford
Thursday October 26th – Saturday October 28th
The "Big Easy in Birmingham" space located on Graymont Ave will host live entertainment with Hip Hop and R&B artists, live DJs, Freestyle Rap battles, live radio remotes, and some of the best food, drink, and product vendors in town throughout the course of Classic.
Hours of Operation:
Thursday October 26th from 1pm-8pm
Friday October 27th from 10am-9pm
Saturday October 28th from 10am-2pm
Classic Kick Off
Thursday October 26th
Get your Classic weekend started off right with the Classic Kickoff presented by The Marines! Hosted by comedian FunnyMaine, the Classic Kickoff will be held Thursday, October 26th at 7 pm at Bill Harris Arena – Birmingham CrossPlex and will provide an evening of music, fun and entertainment to get you geared up for the McDonald's Magic City Classic. The show will feature performances by collegiate and alumni Greek step teams from your favorite divine nine organizations, a showdown between ASU & AAMU bands, celebrity appearances, and much more. Come ready to show your school pride, represent your organization and show us how you Classic!
A reception will be held prior to the program at the Birmingham CrossPlex from 5 – 6:30 pm with a dinner buffet and one complimentary alcoholic beverage (cash bar available as well).
Classic Kickoff: $15 Tix on Sale NOW
Classic Kickoff & Reception: $40 Tix on Sale NOW
Magic City Classic Taste of Music and Food Festival Urban League
Thursday October 26th
Kick off the 76th annual Magic City Classic at the 2017 Taste of Music and Food festival featuring Dru Hill, Silk, Dani, Yung Vocalz, Clint Babers and others.  The Taste is a combination of Birmingham's best food and hottest live entertainment.  Come satisfy your hunger for social stimulation, enjoy your favorite food vendors, and jam with neo soul artists throughout the evening.  Don't miss the tailgate party or upgrade to VIP and enjoy reserved seating, complimentary food, and VIP bar.  Tickets start at $39 and can be purchased here.
Birmingham Take Over powered by Ford, the Jefferson County Department of Health, and Max Transit
Thursday October 26th
Join us as we take over the city of Birmingham and visit all the hot spots including: Classic Kick Off, Magic City Classic Taste of Music, the Big Easy, and the hottest clubs!  You can ride in style courtesy of Max Transit throughout the evening.
Bus Route info including pick up and drop off times coming soon.
McDonald's Parade
Saturday October 28th
Join us in the streets of downtown Birmingham on Saturday, October 28th at 8am and prepare to be entertained by the best bands, dance teams, and other entertainers!  The parade will be led by the famous McDonald's float carrying celebrities and the game Ambassador.
2017 Parade will feature a new route.
Coors Light Tailgate
Saturday October 28th @ 10am
The Coors Light Tailgate Party will feature LIVE entertainment on the main stage, giveaways and more!  This free party runs from 10am – 2 pm and takes place on the west side of Legion Field.  Don't miss artists such as Do or Die, Lil Scrappy, Trinidad Cardona, 24 Hours, Symplicity, Sammie, Klymaxx and Route 5.
76th Annual Magic City Classic Game
Saturday October 28th – Kick off at 2:30pm
ASU and AAMU battle on the gridiron in the 76th edition of the McDonald's Magic City Classic presented by Coca-Cola!  Cheer on your Bulldogs or Hornets with 70,000 of your closest friends, and don't forget the MCC boasts the best half time show featuring the Mighty Marching Hornets and the Marching Maroon & White!
Tickets on-sale NOW!  Reserved: $35  //  General Admission: $25
All persons regardless of age entering the stadium must have a ticket.
New Rising Star Sunday Morning Church powered by Ford and the Jefferson County Department of Health
Sunday October 29th @ 9:30am
Join us and Pastor Beavers at New Rising Star for a powerful message and music with Zacardi Cortez.  Admission of course is free as we invite you